Welcome to SIGDALSLAG.ORG, the web site for people with "roots" in Sigdal, Eggedal and Krødsherad, Norway (Norge)!
Sigdalslag is an organization dedicated to preserving the Norwegian-American heritage for people whose ancestors emigrated from Sigdal, Eggedal or Krødsherad, Norway (Norge). We maintain a substantial genealogical library and maintain connections to people in our ancestral home areas in Norway.
2017 Norway Tour

2017 Norway Tour being planned now
New photos have been made available for your viewing pleasure provided by NAHA
New photos are available for viewing from Fellesraad. http://fellesraad.com/centennial/photos.htm
7lagstevne
July 20-23, 2017
Luther College
Decorah, Iowa
NOTE FROM THE PRESIDENT
NORWAY TRIP – 2017
 Plans for the Norway trip are well underway.  We are planning our trip and are working on a cost effective trip where you will pay actual expenses.   Many people who go to Norway also want to visit other areas where their families are from before or after our trip to Sigdal, so will meet us as it fits their travel plans. 
Individuals will be making their own plane reservations and will have a large number of flight options, so you can be flexible.  You might consider Icelandair, spending two nights in Reykjavik on your way.  We can help with reservation suggestions and it is suggested that you get tickets early as prices will likely go up later. 
We are scheduled to meet in Trondheim on June 20, 2017.  You might wish to come in a day early to counteract jetlag. June 21 will be spent at Nidaros and the suggested museums. We will spend two nights in Trondheim, travel by train to Lillehammer where we will spend one night arriving in Oslo on June 23.  We will meet at the train station at Gardemoen Airport, which is an easy train ride from Oslo.
Our chartered bus will meet us at Gardermoen and we will spend the afternoon in Eidsvoll, which was site of the signing of the Norwegian constitution in 1814.  We will then go to Sigdal for five nights, June 23 – June 27.  You may stay at Borgerstua in Eggedal or the Folk Musik Center in Sigdal.  Our tour director, Sigrid Kvisle, will make the reservations for you.  You may also stay with relatives. There are limited options in Sigdal – Eggedal. On June 28 we will return to Oslo where you can stay for as many days as you wish.  Then you might wish to go on to Bergen by train or to your other ancestral homes. 
We are so privileged to have Sigrid Kvisle as our guide.  The arrangements that she made for Sigdalslag in 2012 were excellent and we are so fortunate to have her.  She is the retired director of the museum in Prestfoss, Sigdal.  Assistance will be provided in locating family farms. Our genealogist can provide assistance prior to leaving the USA regarding farms and descendants who still reside there.  You will need to request his assistance in adequate time prior to leaving. He also identified relatives that I did not know and their addresses so that I could make contacts prior to going to Norway in 2012.
You will pay the actual cost for the bus and all admissions and some meals which in 2012 were under $400 US total.  A deposit of $300 will go to our treasurer.  It will be credited to your Sigdal expenses and transferred to Norway before we leave.
Individuals staying at the Folk Musik Center will pay for their room, catered breakfast, and optional catered dinner which is about $80 per night.  Borgerstua offers both single and double rooms including breakfast. Our actual costs will depend upon the exchange rate with the Norwegian Krone.  The 2012 price was under $100 per night per person.
At the conclusion of our time in Sigdal we will return to Oslo for more time there, some may wish to take the train to Bergen, or to go on to other areas where they have ancestors. A hotel option in Oslo will be offered as well as the Oslo transportation card.
Planning to fly mid-week is definitely cheaper.  Other travel arrangements would be made individually or for small groups; currently the prices are very favorable especially if procured ahead of time.  There is a group rate available for groups of around twelve if groups are flying together. There are frequently one way options so that you can fly in and out of different cities.  There are also some bargain airlines that will fly you around Norway as well as Europe-Norway.
There are special prices for seniors and students on most trains and for the Oslo card which require presenting identification to get the reduced rate.
We found people to be very hospitable and helpful in 2012 and look forward to another great time.  It will be a great trip!
  Q and A
 Q – If the trip does not fill can I get my $300 deposit back?
A – yes
Q – Why are we not paying a set rate up front?
A – We are not comping group guides or a paid tour guide.  Sigrid Kvisle's services are gratis and we could not have a better guide.  You will pay hotel rates at the best available price.  We can take advantage of discounted rates for seniors and students for the train and Oslo cards —  all resulting in savings.
 Planning to fly mid-week is definitely cheaper.  Other travel arrangements would be made individually or for small groups; currently the prices are very favorable especially if procured ahead of time
Here is the registration form for the trip
Jean Knaak
President, Sigdalslag
We received letters of thanks from our last 2 scholarship winners. Please go to the news section to read their letters.
Fellesraad celebration Photos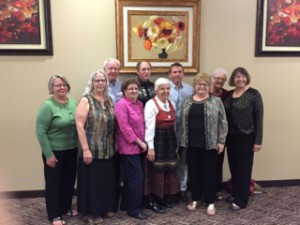 Sigdal Board members meet in July 2015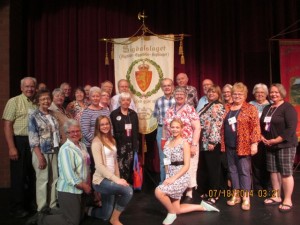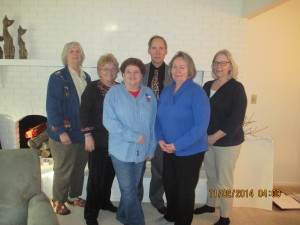 Sigdal Board members meet in November 2014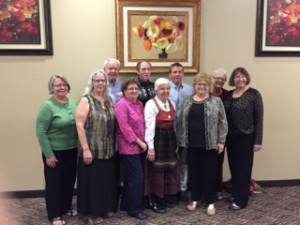 Sigdal Board met in Wisconsin on July 2015
The Sigdalslag 2014 Book was debuted at the Stevne. Please see the index as a PDF file in the shop section of our website. The book is also available for purchase now for $50.00
We hope you enjoy your visit to our web site.
This is an interesting video from Eggedal.
If you have an ancestor who emigrated from this part of Norway, we invite you to click HERE now to find out how to become a member.