Welcome to SIGDALSLAG.ORG, the web site for people with "roots" in Sigdal, Eggedal and Krødsherad, Norway (Norge)!
Sigdalslag is an organization dedicated to preserving the Norwegian-American heritage for people whose ancestors emigrated from Sigdal, Eggedal or Krødsherad, Norway (Norge). We maintain a substantial genealogical library and maintain connections to people in our ancestral home areas in Norway.
2017 Norway Tour

2017 Norway Tour being planned now
New photos have been made available for your viewing pleasure provided by NAHA
NOTE FROM THE PRESIDENT
It was so nice meeting new people and renewing acquaintances at the stevne.  I thought that it was a very good stevne with some new program ideas.
This year's stevne will be in Austin the second weekend of July 2016.  My chance to see the new spam museum.
Our Fellesraad Centennial is May 5 – 8, 2016 at the Doubletree by Hilton and the Earle Brown Center in Brooklyn Center, MN.  The Doubletree has great rates and an included buffet breakfast, so make your reservations early because we expect to use up our block.
Please see this paper for activities for the youth on May 7th during the Centennial celebration. Childrens program at the Centennial celebration
More NEWS from Fellesrad Fellesrad information
If you have a direct ancestor from the area, please send a biography to Garth
You could be a representative honored at the Fellesraad Centenial dinner.
We are planning a Norway trip in the second half of June 2017.  We will spend a number of days in Sigdal under the direction of Sigrid Kvisle and we are hopeful that we will have arrangements for her to meet us as she did in 2012.  We expect to stay at the folk museum unless people have other choices.  The Sigdal trip as arranged locally was cost effective in 2012.  The trip will have  some flexibility for people to make sojourns to other relatives in other areas before or after.  More information will be forthcoming. We are considering visiting Trondheim, Lillehammer, Oslo as well as the Sigdal area. We will develop a special Facebook group for posting information. Hilsen,
Jean Knaak
President, Sigdalslag
Please go to the 7lag stevne site for full information about the 2016 stevne
Prepare for the Fellesraad Centennial is May 5 – 8, 2016 at the Doubletree by Hilton and the Earle Brown Center in Brooklyn Center, MN.
http://www.fellesraad.com/centennial/index.htm
See all the work being done to prepare for the Centennial.
Stoughton High School Dancers will be performing at the Centennial Celebration
News Article-Stoughton Dancers
We received letters of thanks from our last 2 scholarship winners. Please go to the news section to read their letters.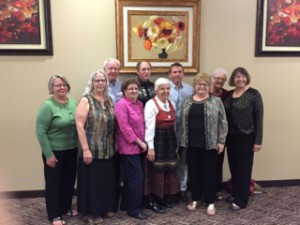 Sigdal Board members meet in July 2015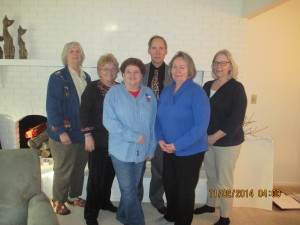 Sigdal Board members meet in November 2014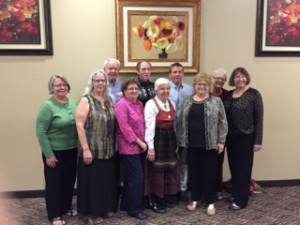 Sigdal Board met in Wisconsin on July 2015
The Sigdalslag 2014 Book was debuted at the Stevne. Please see the index as a PDF file in the shop section of our website. The book is also available for purchase now for $50.00
We hope you enjoy your visit to our web site.
This is an interesting video from Eggedal.
If you have an ancestor who emigrated from this part of Norway, we invite you to click HERE now to find out how to become a member.
…. SORRY, BUT THIS CONTENT IS RESTRICTED TO SIGDALSLAG MEMBERS ONLY…. If you are an existing member, please login to continue.
New users are welcome to begin the membership process by clicking on the Join/Renew page (under Membership), or you may click on the Membership link above for more information.