Welcome to SIGDALSLAG.ORG, the web site for people with "roots" in Sigdal, Eggedal and Krødsherad, Norway (Norge)!
Sigdalslag is an organization dedicated to preserving the Norwegian-American heritage for people whose ancestors emigrated from Sigdal, Eggedal or Krødsherad, Norway (Norge). We maintain a substantial genealogical library and maintain connections to people in our ancestral home areas in Norway.
2017 Norway Tour

2017 Norway Tour being planned now
New photos have been made available for your viewing pleasure provided by NAHA
New photos are available for viewing from Fellesraad. http://fellesraad.com/centennial/photos.htm
7lagstevne  This is the site to the Stevne. Please go here for information
lodging link
July 20-23, 2017
Luther College
Decorah, Iowa
The blocked room rates have now expired.
SIGDALSLAG ANNUAL MEETING AND LAG ACTIVITY
Join us in Decorah on Saturday, July 22, 2017 from 12:30 to 4:00 pm for our Sigdalslag activity and annual meeting.
We thank Birgitta, Carol and Marguerite Meade for planning a great afternoon for us.  The lag will spend the afternoon at the historic rural Hauge Lutheran Church seven miles north of Decorah.  We will have a map at our registration table and will arrange carpooling.  We plan to arrive at 12:30 and leave by 4:00.  The Hauge church is now an ELCA church but was originally of the historic Hauge persuasion, which is well documented in immigrant history.   We will hear a speaker on the history of the church.
Lunch will be provided.  The meal blessing will be delivered by clergy wearing the antique prestefrakk (preaching robe) worn by former Sigdal's lag president Carol Meade's grandfather when he was a pioneer pastor in the late 1800's.  This is a fun photo op.
There will be an opportunity to see the Meade family's Norwegian Fjord Horse and to take pictures.
A short business meeting with door prizes will complete the afternoon.  We will take a group picture before adjourning in time for you to return to Decorah to prepare for the banquet.
The $10 per person charge can be paid on your registration form. Online registration will be available soon.
NOTE FROM THE PRESIDENT
NORWAY TRIP – 2017
Plans for the Norway trip are well in place.  We have met the number needed for the trip and will accept reservations as long as we have bus space.  Please do reserve now if you are interested.
Our trip is cost effective where attendees will pay actual expenses.  We do not have agency fees and are not paying guide expenses.  We will meet together in Trondheim or attendees may join us at the Gardermoen Station by Oslo for the Sigdal only experience.  We know that many people who go to Norway also want to visit other areas where their families are from, either before or after our trip to Sigdal. So, we will have a variety of travel plans.
Individuals will be make their own plane reservations and will have a large number of flight options. There are still great bargains. We can help with reservations, and it is suggested that you get tickets early as prices will likely go up later.
We are scheduled to meet in Trondheim on June 20, 2017.  You might wish to come in a day early to counteract jetlag. On June 21 we will meet at 8:30 am and spend the day at Nidaros and other attractions. We will spend two nights in Trondheim, travel by train to Lillehammer where we will spend one night, arriving in Oslo on June 23.
Our chartered bus will meet us at Gardermoen train station mid-morning and we will spend the afternoon in Eidsvoll, which was site of the signing of the Norwegian constitution in 1814.  We will then go to Sigdal for five nights, June 23 – June 27.  The Folk Musik Center in Sigdal is fully booked and our tour director, Sigrid Kvisle, will make the room reservations for attendees at other locations.  You may also stay with relatives. On June 28 in the morning we will return to Oslo where you can stay for as many days as you wish.  Then you might wish to go on to Bergen by train or to your other ancestral homes.
We are so privileged to have Sigrid Kvisle as our guide.  She is planning our itinerary while we are in Sigdal/Eggedal. The arrangements that she made for Sigdalslag in 2012 were excellent and we are so fortunate to have her.  She is the retired director of the museum in Prestfoss, Sigdal.  Assistance will be provided in locating family farms by our genealogist. He can provide assistance prior to leaving the USA regarding farms and descendants who still reside there.  You will need to request his assistance in adequate time prior to leaving. He also can identify relatives along with their addresses so one could make contacts prior to going to Norway in 2012.  Sigrid will assist with visits to home farms.
In Sigdal you will pay the actual cost for the bus, all admissions and a daily lunch or dinner, which in 2012 cost under $400 US total.  A deposit of $300 will go to our treasurer.  It will be credited to your Sigdal expenses and transferred to Norway before we leave.
Overall costs — What will this cost?  The estimate for your own flight arrangements would be varied, but probably $900 – $1000 is the best price that you will get. There will be some extra Sigdal expenses but your $300 down payment includes the basics of bus, admissions, and some lunches with the total about $400; you will pay the remainder when we complete our time in Sigdal.  For hotels including breakfast and tax in Trondheim, Lillehammer, Sigdal, and Oslo I would estimate under $1000 per person double occupancy for the 10 nights.  So, an estimate gives us a rough $1300 to $1500 for an Oslo pass, admissions, trains, hotels and breakfasts, admissions in Sigdal, and a few meals.  Personal expenses and additional meals are at attendee expense.  The airline ticket is on your own; people are flying in from various places in the country. This is an incredible deal for 10 nights and we thank Sigrid Kvisle for assisting us in Sigdal so that we can offer this great opportunity. Let us hope that the dollar stays strong! The current exchange rate is 8.35 kroner to the US dollar.  We are traveling Norwegian or European style.
At the conclusion of our time in Sigdal we will return to Oslo.  Following the Oslo visit some may spend more time there, take the train to Bergen, or go on to other areas where they have ancestors. We will make hotel reservations in Trondheim, Lillehammer, and Oslo unless you prefer to make your own. The Oslo card will be used for museum admission and all transportation.
The registration form is available below or you may email knaak002@gmail.com for the form or with questions about the trip.
We found people to be very hospitable and helpful in 2012 and look forward to another great time.  It will be a wonderful trip!
Schedule:
6/19 or 6/20/2017          Arrive in Trondheim 2 nights or 3 if you arrive on the 19th
6/20/2017                      On your own
6/21/2017                      Nidaros, crown jewels, music museum, royal residence. Meet at 8:30 am.
6/22/2017                      To Lillehammer, am train.  1 night Sightsee. See Olympic Museum. Public transportation available.
6/23/2017                      To Gardermoen Airport, Oslo, for pickup and tour of Eidsvoll.
6/23/2017 – 6/28/2017    Tour the Sigdal area with the schedule arranged by Sigrid Kvisle. 5 nights
6/28/2017                      Leave for Gardermoen/Oslo in the morning.
6/28 – 6/30/2017         Visit Oslo.  Purchase Oslo cards for transport and admissions.  2 nights or more
6/30/2017             Leave for the USA or continue on to Bergan or the homes of your relatives.
Jean Knaak
President, Sigdalslag
We received letters of thanks from our last 2 scholarship winners. Please go to the news section to read their letters.
Fellesraad celebration Photos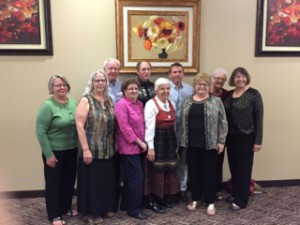 Sigdal Board members meet in July 2015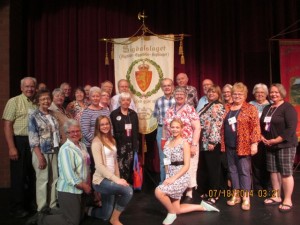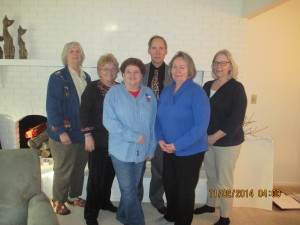 Sigdal Board members meet in November 2014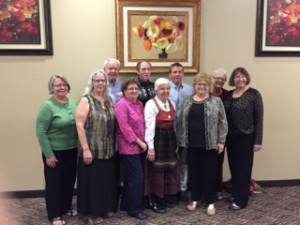 Sigdal Board met in Wisconsin on July 2015
The Sigdalslag 2014 Book was debuted at the Stevne. Please see the index as a PDF file in the shop section of our website. The book is also available for purchase now for $50.00
We hope you enjoy your visit to our web site.
This is an interesting video from Eggedal.
If you have an ancestor who emigrated from this part of Norway, we invite you to click HERE now to find out how to become a member.