Welcome to SIGDALSLAG.ORG, the web site for people with "roots" in Sigdal, Eggedal and Krødsherad, Norway (Norge)!
Sigdalslag is an organization dedicated to preserving the Norwegian-American heritage for people whose ancestors emigrated from Sigdal, Eggedal or Krødsherad, Norway (Norge). We maintain a substantial genealogical library and maintain connections to people in our ancestral home areas in Norway.
2020 Stevne

2020 Stevne has been Cancelled. The 2021 Stevne is planned for July 15-18 2021
We provide free membership to those under 30 years of age- write to Lila Harp Lila for all the details
7-Lag Stevne Report from President Karen Olson
Get "Koselig" With Your Heritage was the theme of the 7-Lag Stevne that was held at the Holiday Inn & Convention Center in Fargo, ND from July 10-13, 2019.
Wednesday started things off with a public open house for genealogy and vendors from 4-7pm.  Many local residents came to check out the research materials.
Thursday morning, we had our opening session with all its gala.  We were fortunate to have Ruth Christ bring the session to order with the "call of the lur".  Our featured speaker for the opening session was Tove Irene Dahl.  Tove is a professor of psychology at the Arctic University of Norway in Tromsø.  Some of you may know her if you have had children at Skogfjorden, the Norwegian Language Camp outside of Bemidji, MN.  She has been the director of that camp for over 30 years.
After the opening session, we either headed straight to genealogy to work on our never-ending family story or to visit with friends over lunch.   Classes started in the afternoon and we were so thankful for the presenters who took the time to be at our Stevne.
The kids in attendance had their own area with various activities going on for Thursday and Friday.  Markus Krueger, from the Hjemkomst Center, started things off by providing the kids with a presentation on immigration.  We are appreciative of the time given to the kids by Jessica, Ginny, and George sharing different aspects of Norwegian culture and heritage.
Thursday evening, the Kringen Accordion Band entertained us with a lively musical performance that brought back many fond memories.  The group, formed in 2004, is from the Fargo/Moorhead area.  They meet weekly at the Sons of Norway Kringen Lodge to practice.
Friday morning had everyone busy for another day of classes, genealogy, or just catching up with friends in the hospitality room over coffee and some of the wonderful Norwegian baked goods.
A bus tour on Friday took you to the Hjemkomst Center where a guide lead you on a tour of the museum.   Then it was on to the Sons of Norway Kringen Lodge in Fargo for a lunch break.  The lodge is well known in the area for their daily food specials and Norwegian specialty items.  After enjoying lunch and conversation, we headed to the Plains Art Museum as our final destination.  Here we were given the opportunity to enjoy many art displays by local artists.
Friday evening, we were treated to the sounds of the hardanger fiddle.  The group of local musicians who are called "The Fargo Spelemannslag" have come together to learn the art of Norwegian hardanger fiddling.  It was noted that the sometimes-mournful sound of the hardanger fiddle was highly featured in the music from the movie "Fargo".
Saturday was our last day of Stevne.  Our Sigdal group met for a quick lunch provided by Jean Knaak and her family and then got down to the brief business meeting.  We then had the opportunity to watch the movie "Lutefisk Wars", which provided a few laughs.  And of course, you can't have a movie without popcorn!
Saturday night was our annual banquet, bunad parade, and entertainment provided by the NorSweDane Dancers.  They organized about twenty years ago and their goal is to carry on a time-honored tradition while providing entertainment and fellowship through dance.
We successfully put another Stevne behind us and will now look forward to 2020 in Duluth, MN hosted by Hadeland.
2019 Fall Board Meeting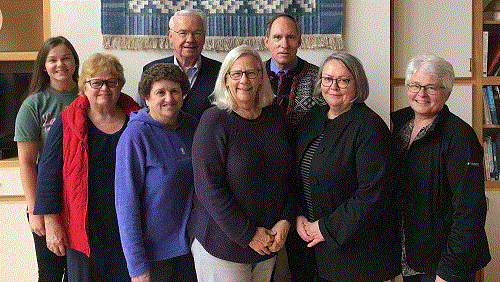 We received letters of thanks from our last 2 scholarship winners. Please go to the news section to read their letters.
The Sigdalslag 2014 Book was debuted at the Stevne. Please see the index as a PDF file in the shop section of our website. The book is also available for purchase now for $50.00
This is an interesting video from Eggedal.
If you have an ancestor who emigrated from this part of Norway, we invite you to click HERE now to find out how to become a member.